Flush-Fit Shower Tray
This exclusive system comes complete with a flush fitting tray and integrated slip resistant mat in red, white or blue, raising the user clear of surface water. The mat is comfortable, lightweight, flexible, easy to keep clean and ideal for the partially sighted as colour contrast can be achieved.
A 4-way drainage system assists speedy clearance of waste water. Both the mat and tray contain anti-microbial protection which will protect against bacterial and fungal attack or rotting, hinder the growth of algae and help prevent microbially caused discolouration. It is available in a wide range of sizes to suit all bathrooms and is ideal for use with our Pro Doors.
With a slimline shower tray base, Flush Fit provides an ideal option when it comes to functional level access showering. Combined with our many Pro-door options, the two products complement each other to provide a clean stylish finish to the showering area.
Use the links below to download more information about this product:
There are no downloads for this product.
The Flush Fit Shower Tray is a unique, alternative option of achieving level access showering and offering the highest degree of slip resistance. The integrated slip resistant mat allows speedy clearance of waste water.
Features and Benefits:
Durable brilliant white slip resistant base 50mm tiling upstand
Gel coated for hard wearing and ease of cleaning
Fully encapsulated board structure for increased stability and comfortable handling
Suitable for level access or low level access
Waste outlet suitable for gravity, Phlexiflow and
Hydro-Flow pumped waste systems
Waste is uncut
Waste position right/left or rear corner
Comfortable, warm slip resistant mat, keeps the user out of the waste water
Slip resistant base when mat removed
Wells silver ion content to stop bacteria growth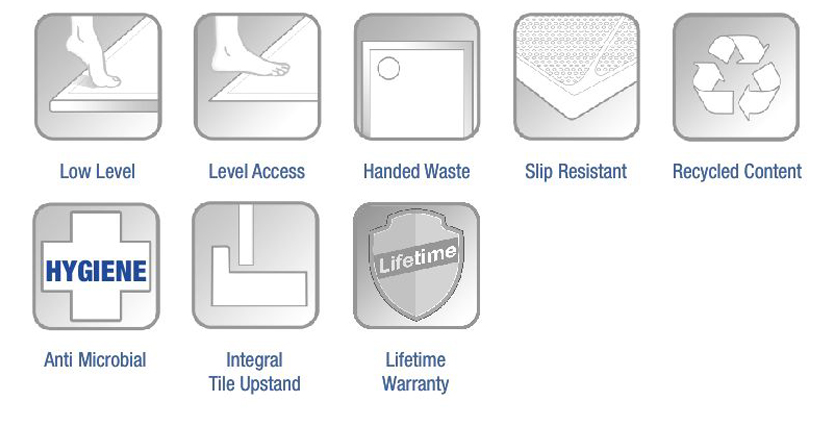 | | | | |
| --- | --- | --- | --- |
| Size | Pro Door Configurations | Colour | Code Number |
| 960 X 960mm | D L R RF | White | P6821860 |
| 960 X 960mm | D L R RF | Red | P6821861 |
| 960 X 960mm | D L R RF | Blue | P6821862 |
| 1060 X 1060mm | D L R RF | White | P6821865 |
| 1060 X 1060mm | D L R RF | Red | P6821866 |
| 1060 X 1060mm | D L R RF | Blue | P6821867 |
| 1500 X 760mm | E F G R RF | White | P6821840 |
| 1500 X 760mm | E F G R RF | Red | P6821841 |
| 1500 X 760mm | E F G R RF | Blue | P6821842 |
| 1500 X 860mm | E F G R RF | White | P6821850 |
| 1500 X 860mm | E F G R RF | Red | P6821851 |
| 1500 X 860mm | E F G R RF | Blue | P6821852 |
| 1500 X 760mm | E F G R RF | White | P6821845 |
| 1500 X 760mm | E F G R RF | Red | P6821846 |
| 1500 X 760mm | E F G R RF | Blue | P6821847 |
| 1500 X 860mm | E F G R RF | White | P6821855 |
| 1500 X 860mm | E F G R RF | Red | P6821856 |
| 1500 X 860mm | E F G R RF | Blue | P6821857 |
People who viewed this product, also viewed