Universal Shower Tray
The Universal Shower Tray is a durable, slip resistant shower tray manufacturered with a smooth, gel coating for the creation of a hard wearing surface. The fully encapsulated structure encompasses metal strengthening bars for rigidity. Our Universal Shower Trays can be fitted directly onto an existing floor to create a 35mm low level access. Alternatively, the tray can be bedded into the floor to provide level access. Both options of installation can be achieved on a concrete screed or timber boarded floor area. It is suitable for use with our Pro-door showering options and many of our other shower screens and enclosures.
Our Universal Shower Tray is suitable for use with both traditional gravity waste systems or pumped waste systems such as our Phlexiflow and Hydro-Flow Pumps for the removal of water. Maximum flexibility can be achieved within the design as the tray can be reversed and placed in the most appropriate position to suit the existing waste outlet on site. The unique drainage channels help direct the waste water towards the outlet.
The Universal Shower Tray has an easy to clean, brilliant white, hygienic and slip resistant surface. It is available in a wide range of sizes to suit all bathrooms.
Use the links below to download more information about this product:
There are no downloads for this product.
The Universal Shower Tray is an ideal solution if you are looking to achieve versatility with installation configurations. With a profile of 35mm, the tray can be recessed for level access or surface mounted.
Features and Benefits:
Durable, brilliant white, slip resistant base
Unique drainage channels
Metal strengthening bars for rigidity
Gel coated for a hard wearing surface & ease of cleaning
Fully encapsulated board structure for increased stability and comfortable handling
Suitable for low level or level access
Waste outlet suitable for gravity and Phlexiflow top or bottom exit pumped waste systems
Non handed tray as the waste is positioned centrally
Fully reversible to gain the most appropriate waste location
Wells silver ion content to stop bacteria growth
Where it is not possible to sink the tray into an existing concrete or timber floor a loose ramp is available which can be cut and attached to the tray on site.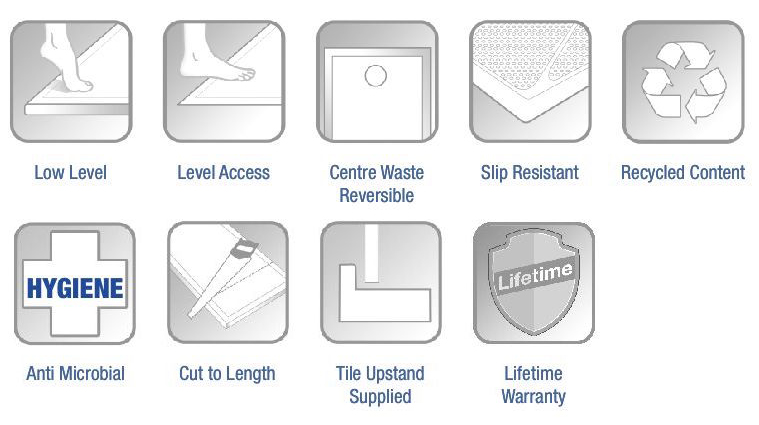 People who viewed this product, also viewed