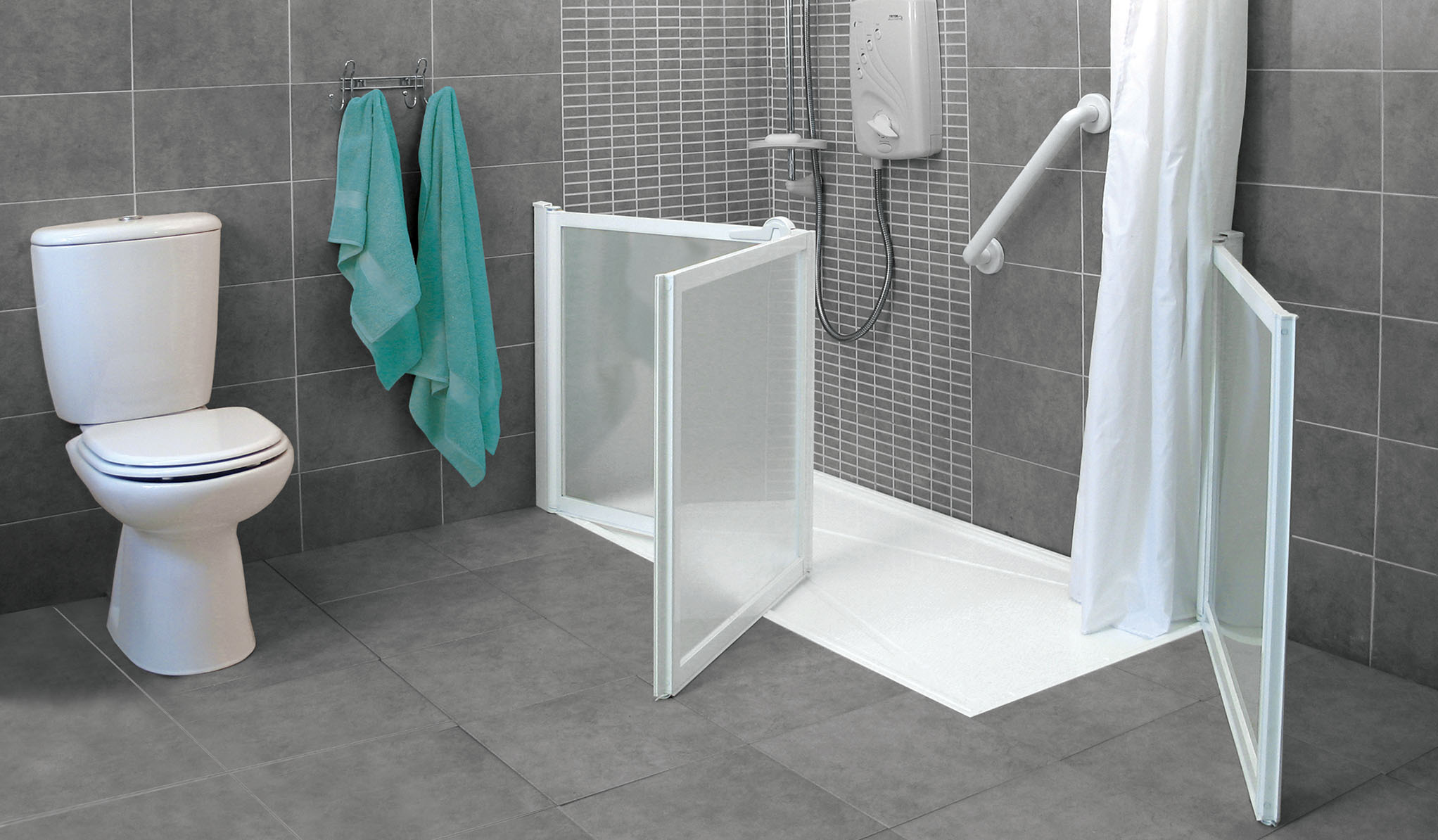 N&C Phlexicare are British manufacturers and inventors of half height shower doors. The N&C Pro-Doors Shower Door System is the perfect solution for assisted showering, allowingeasy level access for family members and carers.
N&C Pro-Doors, suitable for wet rooms and shower areas, are manufactured to a high standard using a robust aluminum frame that ensures the highest level of safety, reliability and confidence. The product incorporates stylish, rounded profiles offering a complete white clean finish to all component parts. Available in over 20 different configurations, this door system is the perfect system for all sized bathrooms and allows you to maximise space.
Other features & benefits of N&C Pro-Doors include:
· Available in White or Silver
· 2 elongated holes to connect compensator to wall, this allows 7½° of adjustment to assist straight install
· Compensator has 30mm of adjustment, this allows adjustment to overcome any wall imperfections
· Extended compensator available (65mm adjustable)
· Simple, single screw locking system within the door and compensator to grip the doors into position
· Can be installed and adjusted by one person
· Improved strengthened rounded hinge
· Stylish and safe (no sharp edges)
· Aluminum box construction. Strong, hard wearing
· Clean, white corner pieces' rubber panel seals
· P.E.T.G. (Police riot shield material) panel strong & safe, will not break into shards
· Rounded bi-fold door locking system stylish & safe (no sharp edges)
· Labyrinth seals between bi-fold & doors, stopping water ingress
· Each door has 8 concealed neodymium magnets for a strong seal (no unsightly black strips)
· 3 Way seal on base of doors for excellent water seal
· Rising butt hinge has an extended foot that is secured for extra stability to the tray or former
· Rising butt hinge stops wear on seal and allows easy movement of doors
· Each set of doors is supplied with a curtain and rail
Our new proposition
N&C Phlexicare now offer the N&C Pro-Doors Shower Door System in 'made to measure sizes'. With the ability to have them delivered within just 48 hours to any home or site address in England, Scotland or Wales, when orders are placed before 12 noon. Please contact your local N&C Phlexicare Sales Representative to find out more.