What is the RADAR Key Scheme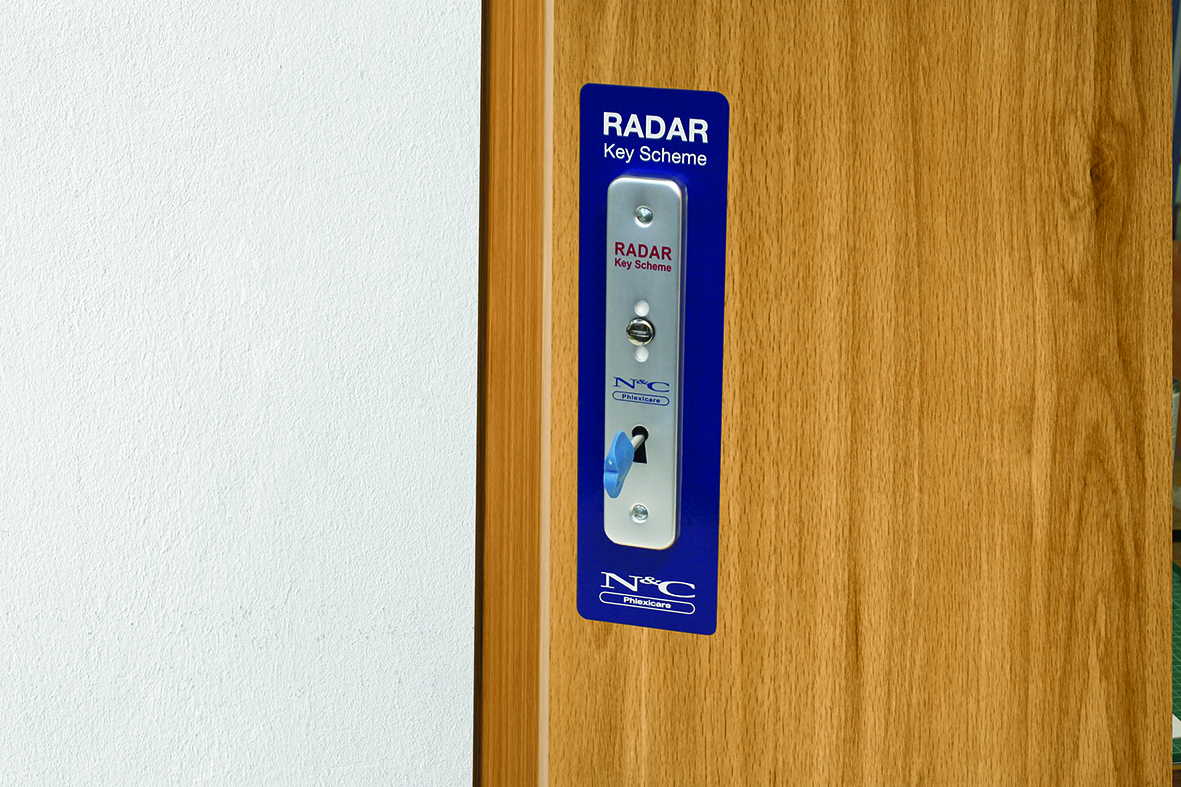 N&C Phlexicare in partnership with Disability Rights UK (formerly R.A.D.A.R) promote a U.K national scheme, whereby specially manufactured locks are fitted in toilet facilities UK wide, that can only be operated using an N&C Phlexicare RADAR key. The National Key Scheme offers disabled people independent access to locked public toilets around the country. Toilets fitted with N&C Phlexicare RADAR locks can now be found in shopping centres, pubs, cafe's, department stores, bus and train stations and many other locations in most parts of the country.
How to identify copy keys
Unless the key is stamped with the N&C Phlexicare Logo, it is not an official key and therefore has not been manufactured and tested to work with any of the 10,000+ N&C RADAR locks or Padlocks in use around the country. With its specially designed "Blue Heart" shaped head which enables not only a better and more comfortable grip, but also improved function when turning the key to help the user access the lock. The keys are also available in a "Standard" pattern head where the larger head size is not required.
The benefits of the N&C RADAR key
RADAR Keys are available to disabled or registered blind people to enable them to access facilities safely, comfortably and without the need to queue for public W.C's. This aims to give protection against vandalism or misuse, so that a clean functional toilet is available when required. The N&C Phlexicare RADAR lock was the first and is still the only original RADAR lock, Designed over 40 years ago by Nicholls and Clarke to help meet the urgent need to provide safe, clean and secure toilet facilities for the disabled community in public places. The newly launched 5th generation design continues to meet with the highest requirements of BS8300 Equalities Act with a more "User Friendly" handle design, Re-designed cover plate & Vinyl surround to highlight the lock to help user locate it from a distance. With all of these benefits as well as being tested to the highest industry standards for lock and handle operation, The N&C Phlexicare lock has been designed to help serve the community for years to come.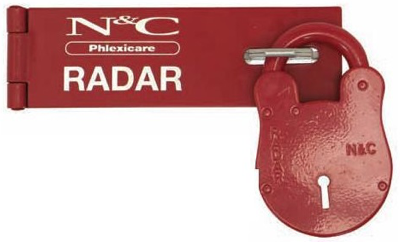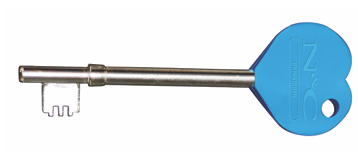 The N&C RADAR Padlock was originally designed to help meet the needs of disabled people who wanted to use facilities such as bridal paths and public commons, but where there was also a need to secure a gate in order to restrict access to vehicular traffic. N&C designed the RADAR padlock & Hasp & Staple to offer a solution to this, whilst still giving access to these areas for RADAR Key users. With its Bright Red powder coating it can be easily identified by the user as being accessible with their RADAR key from a distance. Other uses for this padlocks have been on Temporary toilets at public and private events, as well as securing ramps and other access equipment that may be used by RADAR Key users.