Easy-Fit Shower Tray
The Easy Fit Shower Tray has a unique gravity waste design which means the pipe work can be hidden beneath the 90mm high tray, speeding up the installation process and eliminating the need for pipe work to be bedded into the floor or wall. The Easy Fit Shower Tray has been designed to be attractive and effective so that water runs away quickly and the unique waste eliminates the risk of users damaging their feet.
The tray is suitable for use with the full range of our Pro-door shower door options.The flexibility of the design includes a central waste which can be reversed and used left or right handed; this means the installer can place the tray in the most appropriate position to suit the waste on site.
The design benefits from metal strengthening bars to create a rigid tray which is completely
encapsulated with gel coating to provide a smooth, hardwearing finish. The tray has an easy clean, brilliant white hygienic slip resistant surface. It is available in a wide range of sizes to suit all bathrooms and has a cut down option.
Use the links below to download more information about this product:
There are no downloads for this product.
Our Easy Fit Shower Tray has been designed for installation onto unbreachable floors, where a gravity waste is required instead of a pump. The Easy Fit Shower Tray incorporates high quality construction and rigity through its fully encapsulated structure that conceals pipework.
Features and Benefits:
Durable brilliant white slip resistant base
Unique drainage channels
Metal strengthening bars for rigidity
Gel coated for hard wearing and ease of cleaning
Fully encapsulated board structure for increased stability and comfortable handling
Suitable for low level access
Wells silver ion content to stop bacteria growth
Suitable for gravity waste with unbreachable floor
Non handed tray as the waste is positioned centrally
Fully reversible to gain the most appropriate waste location
Waste outlet is uncut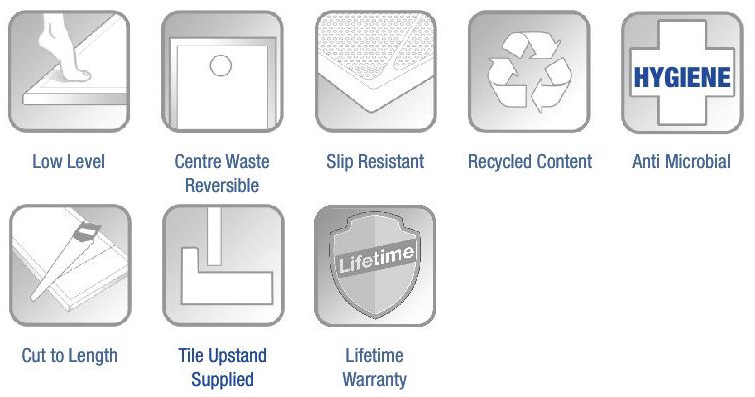 People who viewed this product, also viewed