Quick Fit Shower Tray
A fast, easy to install solution incorporating an attractive, high quality and fully functional design for easy access showering. The low level profile and brilliant white finish allows for an inclusive, sophisticated looking product in the bathroom, moving away from a clinical aesthetic. Through quality manufacturing, Quick Fit is a robust, highly durable solution with a slip resistant surface and an anti-microbial finish for greater user confidence and hygiene. Quick Fit is designed to be easily connected to any waste pump system, including Phlexiflow and Hydro-Flow, using 15m or 22m pipework. This enables speedy installation of a low level shower tray to an unbreachable floor.
Use the links below to download more information about this product:
There are no downloads for this product.
Our Quick Fit Shower Tray is a high quality, fully encapsulated product that incorporates an innovative, unique drainage system. The sensor operation, with built-in suction pump and specially designed drainage channels, assist in the effective disposal of water. The Quick Fit Shower Tray is the ideal solution where the floor cannot be breached, or where it is difficult to fit a standard waste system into the floor. The low level shower tray makes it the perfect solution for users requiring accessibility.
Features and Benefits:
Unique drainage channels for effective water disposal
Designed for unbreachable floor installation
Durable brilliant white slip resistant base
Unique drainage channels
Metal strengthening bars for rigidity
Gel coated for a hard wearing surface and easy cleaning
Fully encapsulated board structure for increased stability and comfortable handling
Suitable for low level access
Silver ion anti-microbial treated to stop bacteria growth
Fully reversible to gain the most appropriate waste location
Designed for easy and speedy connection to a pumped waste system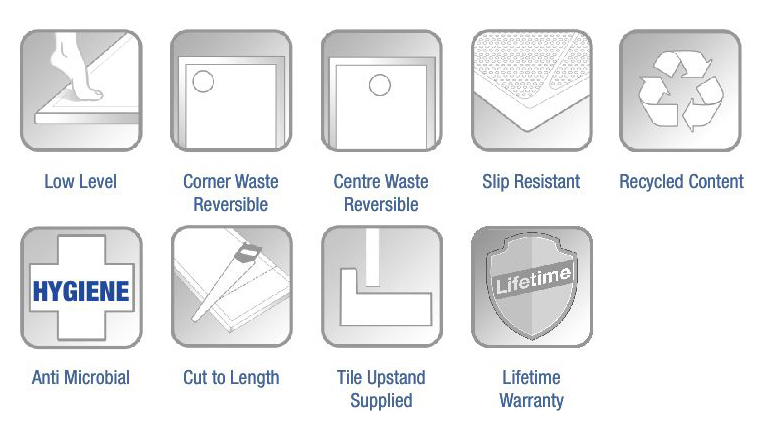 | Quick Fit Shower Tray Ramps | | | |
| --- | --- | --- | --- |
| Type | Size | Hand | Code Number |
| Corner | 1500 X 40mm | Left | P6820503 |
| Corner | 1500 X 40mm | Right | P6820504 |
| Corner | 1200 X 40mm | Left | P6820505 |
| Corner | 1200 X 40mm | Right | P6820506 |
| Corner | 900 X 40mm | Left | P6820507 |
| Straight | 800 X 40mm | | P6820500 |
| Straight | 900 X 40mm | | P6820501 |
| Straight | 1800 X 40mm | | P6820502 |
People who viewed this product, also viewed